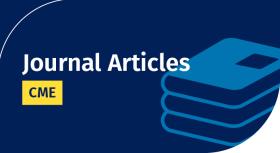 The Pathophysiology and Dangers of Silent Hypoxemia in COVID-19 Lung Injury
The ongoing coronavirus disease (COVID-19) pandemic has been unprecedented on many levels, not least of which are the challenges in understanding the pathophysiology of these new critically ill patients. One widely reported phenomenon is that of a profoundly hypoxemic patient with minimal to no dyspnea out of proportion to the extent of radiographic abnormality and change in lung compliance. This apparently unique presentation, sometimes called "happy hypoxemia or hypoxia" but better described as "silent hypoxemia," has led to the speculation of underlying pathophysiological differences between COVID-19 lung injury and acute respiratory distress syndrome (ARDS) from other causes. 
We explore three proposed distinctive features of COVID-19 that likely bear on the genesis of silent hypoxemia, including differences in lung compliance, pulmonary vascular responses to hypoxia, and nervous system sensing and response to hypoxemia. In the context of known principles of respiratory physiology and neurobiology, we discuss whether these particular findings are due to direct viral effects or, equally plausible, are within the spectrum of typical ARDS pathophysiology and the wide range of hypoxic ventilatory and pulmonary vascular responses and dyspnea perception in healthy people.
Comparisons between lung injury patterns in COVID-19 and other causes of ARDS are clouded by the extent and severity of this pandemic, which may underlie the description of "new" phenotypes, although our ability to confirm these phenotypes by more invasive and longitudinal studies is limited. However, given the uncertainty about anything unique in the pathophysiology of COVID-19 lung injury, there are no compelling pathophysiological reasons at present to support a therapeutic approach for these patients that is different from the proven standards of care in ARDS.
Target Audience
Pulmonologists, critical care specialists, translational researchers, and clinicians
Learning Objectives
At the conclusion of this activity, learners should be able to:
Distinguish similarities and differences between COVID-19 lung injury and ARDS.
Describe possible unique features of hypoxic vascular regulation in COVID-19.
Describe possible unique features of hypoxic ventilatory responses and dyspnea perception in COVID-19.
Accreditation Statement
The American Thoracic Society is accredited by the Accreditation Council for Continuing Medical Education to provide continuing medical education for physicians.
Disclosure Declaration
Article Authorship Disclosures (as submitted to the ATS prior to article publication date)
Kai E. Swenson, M.D. (Stanford University School of Medicine, Stanford, CA, USA) reported no relevant financial relationships.
Stephen J. Ruoss, M.D. (Stanford University, Stanford, CA, USA) reported no relevant financial relationships.
Erik R. Swenson, M.D. (University of Washington, Seattle, WA, USA) reported no relevant financial relationships.
Off-Label Usage Disclosure
None
Disclosures of AnnalsATS CME Planners
The Annals of the American Thoracic Society (AnnalsATS) original research, commentaries, reviews, and educational content of interest to clinicians and clinical investigators in pediatric and adult pulmonary and sleep medicine and medical critical care. The scope of the journal encompasses content that is applicable to clinical practice, the formative and continuing education of clinical specialists, and the advancement of public health.
The publication of articles that meet these goals by itself is only one step in a multi-step process for the translation of evidence-based improvements in are to clinical practice. Testing for CME credit is designed to function as a next step in the process. This is accomplished through a series of questions written by the author(s) to test that readers have the tools needed to translate recommendations for diagnostic and therapeutic clinical care into clinical practice. Members of the AnnalsATS editorial board review these questions and edit these questions for clarity, educational content, and the quality of the evidence supporting the response to the question.
AnnalsATS CME Planners
Alan M. Fein, M.D.
Podcast Editor, AnnalsATS
Dr. Fein reported that he has no financial relationships with ineligible companies.
Constantine Manthous, M.D.
Associate Editor, AnnalsATS
Dr. Manthous reported that he has no financial relationships with ineligible companies.
Gregory A. Schmidt, M.D.
Editorial Board, AnnalsATS
Dr. Schmidt reported payments for writing a textbook on critical care medicine (McGraw-Hill) and for writing contributions for UptoDate.
Instructions to Receive Credit
To receive credit for this journal article:
Read the journal article. Keep track of how long it takes you to read it.
Once you open the article, the Post-Test becomes available. After reading the article, answer the post-test questions. You must answer all questions correctly to earn credit. You may take the test as many times as you like.
Once you pass the Post-Test, the Evaluation becomes available. Answer all the evaluation questions.
Once you complete the evaluation, select the amount of credit to receive based on the time it took you to read the article.
You can view, save and print your Certificate by pressing the Certificate button.
To review the credits you've earned in this system and reprint certificates, go to the My Learning drop-down list. Then select Transcript.
Available Credit
1.00

AMA PRA Category 1 Credit(s)™

The American Thoracic Society designates this for a maximum of 1.00 AMA PRA Category 1 Credit(s)™. Physicians should claim only the credit commensurate with the extent of their participation in the activity.

1.00

Participation