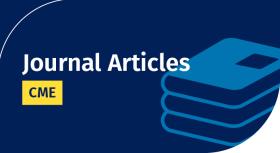 Harms of Electronic Cigarettes: What the Healthcare Provider Needs to Know
Electronic cigarettes (e-cigarettes) reached the market without either extensive preclinical toxicology testing or long-term safety trials that would be required of conventional therapeutics or medical devices. E-cigarettes are considered a tobacco product and as such have no manufacturing quality or safety standards. A growing body of evidence documents severe harms from e-cigarette use, including injuries from product explosions, nicotine poisoning, and severe lung diseases. Commonly used e-cigarette components have significant inhalation toxicity. 
Emerging evidence from laboratory studies suggests substantial reason for concern for long-term harms, including risk for cardiovascular disease, chronic obstructive lung disease, and cancer. Rather than helping people stop smoking, e-cigarette use is associated with reduced rates of smoking cessation among current smokers and an increased risk of relapse to smoking among former smokers. The World Health Organization advises, "Unlike the tried and testednicotine and non-nicotine pharmacotherapies that are known to help people quit tobacco use, WHO does not endorse e-cigarettes as cessation aids." Careful evaluation of all the available research justifies a strong recommendation that healthcare providers should neither prescribe nor recommend e-cigarettes for persons who are tobacco dependent. If a patient is dependent on e-cigarettes, the healthcare provider should provide counseling and treatment (of nicotine dependence) to help the patient to stop their e-cigarette use.
Target Audience
Pulmonologists, critical care specialists, translational researchers, and clinicians
Learning Objectives
At the conclusion of this activity, learners should be able to:
Describe and counsel patients on the harms of electronic cigarettes.
Describe and counsel patients on toxic substances in electronic cigarettes.
Recommend FDA-approved medications for tobacco dependence and NOT electronic cigarettes.
Accreditation Statement
The American Thoracic Society is accredited by the Accreditation Council for Continuing Medical Education to provide continuing medical education for physicians.
Disclosure Declaration
Article Authorship Disclosures (as submitted to the ATS prior to article publication date)
Yet H. Khor, M.B.B.S. (Austin Health, Heidelberg, Victoria, Australia) reported receiving in-kind support for trial equipment from Air Liquide Healthcare.
Katherine A. Dudley, M.D., M.P.H. (Harvard Medical School, Boston, MA, USA) reported no relevant financial relationships.
Derrick Herman, M.D. (The Ohio State University Wexner Medical Center, Columbus, OH, USA) reported no relevant financial relationships.
Harold J. Farber, M.D., M.S.P.H. (Texas Children's Hospital, Houston, TX, USA) reported no relevant financial relationships.
Manuel Conrado Pacheco Gallego, M.D., M.Sc. (Technological University of Pereira Faculty of Health Sciences, Pereira, Risaralda, Colombia) reported no relevant financial relationships.
Panagis Galiatsatos, M.D., M.H.S. (Johns Hopkins University, Baltimore, MD, USA) reported no relevant financial relationships.
Patricia Folan, D.N.P., R.N., C.T.T.S. (Northwell Health, Great Neck, NY, USA) reported no relevant financial relationships.
Thomas Lamphere, B.S., R.R.T.-A.C.C.S., R.P.F.T., F.A.A.R.C. (Pennsylvania Society for Respiratory Care, Sellersville, PA, USA) reported no relevant financial relationships.
Smita Pakhale, M.D., M.Sc. (Ottawa Hospital Research Institute, Ottawa, Ontario, Canada) reported no relevant financial relationships.
Off-Label Usage Disclosure
None
Disclosures of AnnalsATS CME Planners
The Annals of the American Thoracic Society (AnnalsATS) original research, commentaries, reviews, and educational content of interest to clinicians and clinical investigators in pediatric and adult pulmonary and sleep medicine and medical critical care. The scope of the journal encompasses content that is applicable to clinical practice, the formative and continuing education of clinical specialists, and the advancement of public health.
The publication of articles that meet these goals by itself is only one step in a multi-step process for the translation of evidence-based improvements in are to clinical practice. Testing for CME credit is designed to function as a next step in the process. This is accomplished through a series of questions written by the author(s) to test that readers have the tools needed to translate recommendations for diagnostic and therapeutic clinical care into clinical practice. Members of the AnnalsATS editorial board review these questions and edit these questions for clarity, educational content, and the quality of the evidence supporting the response to the question.
AnnalsATS CME Planners
Alan M. Fein, M.D.
Podcast Editor, AnnalsATS
Dr. Fein reported that he has no financial relationships with ineligible companies.
Constantine Manthous, M.D.
Associate Editor, AnnalsATS
Dr. Manthous reported that he has no financial relationships with ineligible companies.
Gregory A. Schmidt, M.D.
Editorial Board, AnnalsATS
Dr. Schmidt reported payments for writing a textbook on critical care medicine (McGraw-Hill) and for writing contributions for UptoDate.
Instructions to Receive Credit
To receive credit for this journal article:
Read the journal article. Keep track of how long it takes you to read it.
Once you open the article, the Post-Test becomes available. After reading the article, answer the post-test questions. You must answer all questions correctly to earn credit. You may take the test as many times as you like.
Once you pass the Post-Test, the Evaluation becomes available. Answer all the evaluation questions.
Once you complete the evaluation, select the amount of credit to receive based on the time it took you to read the article.
You can view, save and print your Certificate by pressing the Certificate button.
To review the credits you've earned in this system and reprint certificates, go to the My Learning drop-down list. Then select Transcript.
Available Credit
1.00

AMA PRA Category 1 Credit(s)™

The American Thoracic Society designates this for a maximum of 1.00 AMA PRA Category 1 Credit(s)™. Physicians should claim only the credit commensurate with the extent of their participation in the activity.

1.00

Participation