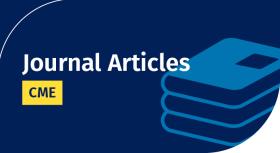 Dyspnea in Chronic Low Ventricular Preload States
Dyspnea in low-preload states is an underrecognized but growing diagnosis in patients with unexplained dyspnea. Patients can often experience debilitating symptoms at rest and with exertion, as low measured preload often leads to decreased cardiac output and ultimately dyspnea. In the present article, we performed a review of the literature and a multidisciplinary evaluation to understand the pathophysiology, diagnosis, and treatment of dyspnea in low-preload states. We explored selected etiologies and suggested an algorithm to approach unexplained dyspnea. 
The mainstay of diagnosis remains as invasive cardiopulmonary exercise testing. We concluded with a variety of nonpharmacological and pharmacological therapies, highlighting that a multifactorial approach may lead to the best results.
Target Audience
Pulmonologists, critical care specialists, translational researchers, and clinicians
Learning Objectives
At the conclusion of this activity, learners should be able to:
Better identify chronic low preload states and how they may contribute to dyspnea.
More appropriately use invasive cardiopulmonary exercise testing (iCPET) in the workup of dyspnea of unknown origin.
Develop multidisciplinary approaches to managing a patient in a chronic low ventricular preload state as a cause for dyspnea.
Accreditation Statement
The American Thoracic Society is accredited by the Accreditation Council for Continuing Medical Education to provide continuing medical education for physicians.
Disclosure Declaration
Article Authorship Disclosures (as submitted to the ATS prior to article publication date)
Rubabin Tooba, M.D. (Cleveland Clinic, Cleveland, OH, USA) reported no relevant financial relationships.
Kenneth A. Mayuga, M.D. (Cleveland Clinic, Cleveland, OH, USA) reported no relevant financial relationships.
Robert Wilson, D.O. (Cleveland Clinic, Cleveland, OH, USA) reported no relevant financial relationships.
Adriano R. Tonelli, M.D., M.Sc. (Cleveland Clinic, Cleveland, OH, USA) reported no relevant financial relationships.
Off-Label Usage Disclosure
Off-label usage was described for the following products: Propanolol and Ivabradine for improving tachycardia in low preload; Fludrocortisone for increasing blood plasma volume in low preload; Midodrine for increasing vascular tone and enhancing venous return; Pyridostigmine, Droxidopa, Methyldopa, and Clonidine for hyperadrenergic agent for low preload; Atomoxetine, Octreotide, Yohimbine, Ergotamine, Pseudoephedrine, Caffeine, and Recombinant erythropoietin for unknown effects in low preload; IVIG, Rituximab, Corticosteroids, Mycophenolate, Azathioprine, and Cyclophosphamide for underlying autoimmune disorders.
Disclosures of AnnalsATS CME Planners
The Annals of the American Thoracic Society (AnnalsATS) original research, commentaries, reviews, and educational content of interest to clinicians and clinical investigators in pediatric and adult pulmonary and sleep medicine and medical critical care. The scope of the journal encompasses content that is applicable to clinical practice, the formative and continuing education of clinical specialists, and the advancement of public health.
The publication of articles that meet these goals by itself is only one step in a multi-step process for the translation of evidence-based improvements in are to clinical practice. Testing for CME credit is designed to function as a next step in the process. This is accomplished through a series of questions written by the author(s) to test that readers have the tools needed to translate recommendations for diagnostic and therapeutic clinical care into clinical practice. Members of the AnnalsATS editorial board review these questions and edit these questions for clarity, educational content, and the quality of the evidence supporting the response to the question.
AnnalsATS CME Planners
Alan M. Fein, M.D.
Podcast Editor, AnnalsATS
Dr. Fein reported that he has no financial relationships with ineligible companies.
Constantine Manthous, M.D.
Associate Editor, AnnalsATS
Dr. Manthous reported that he has no financial relationships with ineligible companies.
Gregory A. Schmidt, M.D.
Editorial Board, AnnalsATS
Dr. Schmidt reported payments for writing a textbook on critical care medicine (McGraw-Hill) and for writing contributions for UptoDate.
Instructions to Receive Credit
To receive credit for this journal article:
Read the journal article. Keep track of how long it takes you to read it.
Once you open the article, the Post-Test becomes available. After reading the article, answer the post-test questions. You must answer all questions correctly to earn credit. You may take the test as many times as you like.
Once you pass the Post-Test, the Evaluation becomes available. Answer all the evaluation questions.
Once you complete the evaluation, select the amount of credit to receive based on the time it took you to read the article.
You can view, save and print your Certificate by pressing the Certificate button.
To review the credits you've earned in this system and reprint certificates, go to the My Learning drop-down list. Then select Transcript.
Available Credit
1.00

AMA PRA Category 1 Credit(s)™

The American Thoracic Society designates this for a maximum of 1.00 AMA PRA Category 1 Credit(s)™. Physicians should claim only the credit commensurate with the extent of their participation in the activity.

1.00

Participation