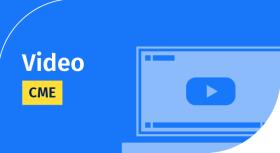 The 2022 Richard Light Symposium on Pleural Diseases: State of the Art
This 5-part video presentation series pays tribute to Dr. Richard Light and describes many recent exciting and practice-changing advances in our understanding of pleural disease since the publication of Light's Criteria. Recent research advances have allowed less-invasive approaches in diagnosis of pleural effusions, and transformed the care of malignant effusion, empyema, and pneumothorax. 
The wide range of topics (listed below) in this video series will inform pulmonologists on practical applications of these exciting advances in everyday practice.
From Light's Criteria to State of the Art Molecular Diagnostics of Pleural Effusions (Courtney Broaddus, MD)
From Light's Formula on Pneumothorax Size to Conservative Management: State of the Art Pneumothorax Care (Nick Maskell, DM)
From Light's "Sun Never Set on Parapneumonic Effusion" to State of the Art Care of Pleural Infection (Samira Shojaee, MD, MPH)
From Light's Preclinical Models to State of the Art Malignant Pleural Effusion Care (Yun Chor Gary Lee, MBChB, PhD)
State of the Art Pleural Interventions for Pulmonologists in 2022 (David J. Feller-Kopman, MD)
The presentations included in this educational module were originally presented at the 2022 ATS International Conference.
Target Audience
Pulmonologists, critical care specialists, translational researchers, and clinicians
Learning Objectives
After successfully completing this video series, learners will be able to:
Discuss advances in the diagnosis and treatment of pleural effusions
Implement guideline recommendations on best management of malignant effusions, based on the latest clinical trial evidence
Apply the latest research finding on management of pneumothorax, including conservative approaches and ambulatory care
Name

Title

Institution

Role

Relationship

ATS International Conference Committee

International Conference Committee

Various

Planner

See Planner Disclosure Summary

: https://bit.ly/coisummary

ATS Education Committee

Education Committee

Various

Planner

See Planner Disclosure Summary

: https://bit.ly/coisummary

Courtney Broaddus, MD

Professor Emeritus of Medicine

Univ of California San Francisco

Chair; Presenter 1

No relevant financial relationships to disclose

Nick Maskell, DM

Professor of Respiratory Medicine

University of Bristol, United Kingdom

Presenter 2

Rocket Medical

: Research - investigator initiated




BD

: Advisory Committee for non-promotional

Samira Shojaee, MD

Associate Professor of Medicine 

Virginia Commonwealth University

Presenter 3

Biodesix, Inc

: Research - investigator initiated

Yun Chor Gary Lee, MBChB

Professor of Medicine 

University of Western Australia

Presenter 4

Rocket Medical

: Other transfers of value (e.g., drugs, devices)

David J. Feller-Kopman, MD

Professor of Medicine

Dartmouth Hitchcock Medical Center

Chair; Presenter 5

AstraZeneca

: Consultant




Boston Scientific

: Consultant




Noah Medical

: Consultant




Ambu

: Consultant
Accreditation Statement
The American Thoracic Society is accredited by the Accreditation Council for Continuing Medical Education (ACCME) to provide continuing medical education for physicians.
Disclosure Declaration
It is the policy of the ATS to ensure independence, balance, objectivity, scientific rigor, and integrity in all of its continuing education activities. As an accredited CME provider, the ATS requires that its planners, reviewers and presenters comply with the ACCME Standards for Integrity and Independence in Accredited Continuing Education. The ATS also requires specific disclosure of relationships with companies and organizations associated with tobacco or cannabis and prohibits or limits participation of faculty in official ATS activities, including CME, if any tobacco industry relationship or some types of cannabis industry relationships are present. To see the most recent policies regarding potential conflicts of interest as well as the mechanisms to resolve such conflicts, press the COI Policy link below.
This educational activity may include discussion of unapproved uses of a drug, product, or device. Please refer to the official prescribing information for each product for discussion of approved indications, contraindications, and warnings.
Instructions to Receive Credit
To earn credit for this course, follow these instructions:
Launch and view all session videos.
After viewing the videos, you must attest that you viewed all the videos prior to starting the post test.
You must pass the post test with a 70% score or better.
Complete the Course Evaluation.
Once you view the videos, pass the post test and complete the evaluation, you may claim credits.
To view your transcript and print your certificate, go to the My Account drop-down list. Then select Transcript.
Available Credit
2.00

AMA PRA Category 1 Credit(s)™

The American Thoracic Society designates this for a maximum of 2.00 AMA PRA Category 1 Credit(s)™. Physicians should claim only the credit commensurate with the extent of their participation in the activity.

2.00

Participation